Women across Argentina will take part in marches to celebrate the presentation of new abortion legislation to National Congress. This is the eighth year that legislators and activists have attempted to pass a law to legalize abortion in the country.
The new proposal is an altered version of the one presented last year, which passed in Congress but failed when it reached the Senate after a 16-hour debate.
The fight for free, legal and safe abortion last year polarized the largely Catholic country, and resulted in a "green wave" of feminist pro-choice activists, whose fight is symbolized by green handkerchiefs.
The movement made headlines in Cannes Film Festival in France this month as feminist Argentine film "Que Sea Ley" (Let it be law), which documented Argentina's struggle for legal abortion, was introduced by a feminist march.
PAÑUELAZO POR EL ABORTO EN CANNES
Una gran comitiva copó la alfombra roja y la tiñó de verde. Acompañaron la proyección del filme de Juan Solanas y hubo pañuelos verdes en las butacas. https://t.co/Yriq6aZ8vC pic.twitter.com/zVSIkxfP59

— Clarín (@clarincom) 18 de mayo de 2019
The new law stipulates that "women or other identities with the ability to gestate" have access to legal, safe, and free abortions in the first 14 weeks of pregnancy. If passed, it will also decriminalize abortions— women currently face imprisonment of up to four years for undergoing the procedure. The proposal will also remove a doctor's right to refuse to carry out an abortive procedure based on conscientious objection.
Currently in Argentina, a woman can legally access an abortion under the following circumstances: if the pregnancy was the result of rape, if the pregnancy puts the mother's life at risk, or if the mother is mentally ill. However, doctors in Argentina are allowed to conscientiously object to provide an abortion, meaning that they are not legally required to adhere to the legislation.
In many cases women are too afraid to go to a hospital because they fear that the doctors and nurses will refuse to treat them or verbally abuse them. Testimonies from "Que Sea Ley" affirm that this occurs often. The documentary states that in Argentina, 345,000 clandestine abortions take place, and every week one woman dies from an illegal abortion.
A number of South America countries have restrictive abortion laws. Legal abortion in all cases is only permitted in Uruguay (until 12 weeks of gestation) and Guyana (until eight weeks of gestation).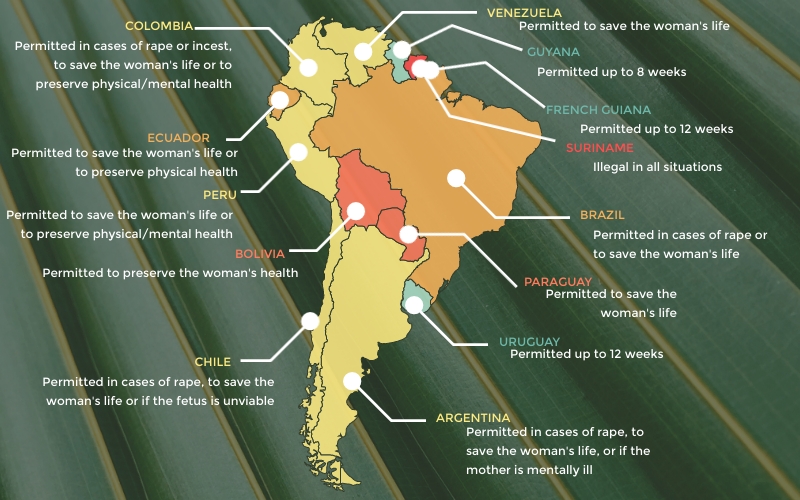 In Central America, where abortion leglization is more repressive, Guatemalan legislators are attempting to pass the "Law for the Protection of Life and Family," which would allow women suspected of carrying out an abortion to be sent to prison for six to 12 years.
Women who lose their babies – even after a couple of weeks – could be incarcerated by Guatemalan authorities while they investigate the cause, LGBT activist Gabriela Dávida told The Progressive. Sandra Morán, a Guatemalan left-wing congresswoman, told the social justice magazine that Guatemala's legislation is directly linked to Evangelical churches in the United States, where repressive abortion legislation is also being passed.
Today marks the International Day of Action for Women's Health, and pro-abortion groups across the continent including Paraguay, Peru and Uruguay are also holding demonstrations to raise awareness about women's right to access abortion. Argentina's high-profile protests last year re-initiated the debate across the continent and further afield, with international human rights groups such as Amnesty International showing their support.
In Argentina, the new legislation will be voted upon by Congress, and if passed, will move up to the more-conservative Senate, which opposed last year's legislation with 38 votes to 31. If the Senate approve this bill, Argentina will become the most populous South American country to legalize abortion.
Read more: