CÚCUTA, Colombia — Venezuelan President Nicholás Maduro remains firm on his stance, saying in a sitdown interview with the BBC yesterday that the aid packages are "a charade…in order to humiliate the Venezuelans" and that Venezuela has "the capacity to satisfy the needs of its people."  Maduro refuses to allow the cargo to enter via Tienditas bridge, a vehicular access bridge between Colombia and Venezuela, whereas opposition leader Juan Guaidó, who installed himself as interim President last month, claimed that preparations would be made for Venezuela. Although initially indicating these preparations would be ready by Tuesday, Guaidó has now extended the deadline to February 23 for when the aid would be received.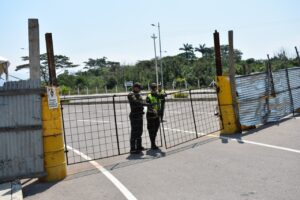 The delivery of the aid has been spearheaded by the US government, that endorses Guaidó as the legitimate leader of Venezuela, though aid agencies like The Red Cross have been reluctant to act as an intermediary in the political stalemate between the two countries.  
The entrance to Tienditas Bridge was cordoned off by police yesterday and no press were permitted to enter. Outside, a small gathering of protesters chanted for Venezuela for the aid to be allowed entry and help those who urgently need assistance. The protest, as well as a slightly larger protest of about a hundred people in the city centre of Cúcuta, was covered by local as well as international media .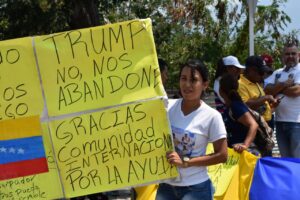 The economic crisis that has hit Venezuela during Maduro's rule has left many famished and unable to access basic healthcare needs. The aid packages are said to include food and medical supplies that many people in the country desperately need. As a result of the widespread hunger, up to three million people have left the country with at least one million people living in Colombia alone.
William, a protester outside Tienditas Bridge, spoke of the sadness of not being able to get basic over-the-counter and prescription drugs. "Whenever I speak to my family I hear of another death," William told The Bogotá Post. Holding up tablets that are life-saving for pulmonary, neurological and hypertension patients, but are no longer easily available in his homeland, William reflected on the difficult circumstances of his homeland. "There's nothing there for us anymore."
This article originally appeared on The Bogota Post.