Protests have erupted over the last two weeks in Santiago de Chile, triggered by a rise in metro prices but sustained by growing unrest over unequal wealth distribution in the country.
At the time of writing, the BBC reported that 10,500 police and soldiers are now on the streets of Santiago, 1400 arrests have been made, and 11 people have died as a result of the protests, five due to a factory fire set by looters.
The protests started on October 6, when Santiago's metro raised its fare from 800 to 830 pesos, the U.S. dollar equivalent of $1.15. In response, high school and university students rushed into metro stations en masse, either jumping over or breaking ticket barriers. After five days of civilian confrontations with Chile's national police force, the metro closed all of its stations in the city, causing massive traffic jams and public buses to operate under capacity.
According to Joe Eldridge, a senior fellow at the Washington Office on Latin America who spoke to Latin America Reports, citizens are demonstrating not just against the metro fare, but against a country rife with social inequality, despite being one of the richest countries on the continent. Protesters have set fire to buildings and buses, destroyed metro stations, and repeatedly clashed with riot police.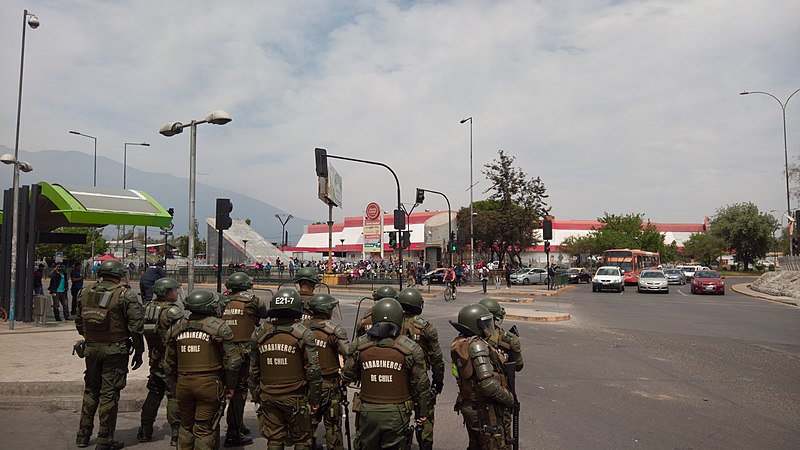 On Thursday, October 17, conservative President Sebastián Piñera invoked a State Security Law, which allows authorities to charge arrested protesters with acts of terrorism. The following day the president announced a State of Emergency in Santiago, Chile's capital city, that would last just over two weeks, limiting freedom of movement and assembly, as well as allowing Piñera to place military officers on the streets.
On Saturday, October 19, he suspended the increase in metro fares, but the protests continued. 
The government has now extended the state of emergency to the cities of Antofagasta, Valparaíso, Valdivia, Chillán, Talca, Temuco and Punta Arenas, and a night-time curfew is now in place in Santiago, Valparaíso, Coquimbo and Biobío. Recent reports from The Guardian, however, indicate that many are not respecting the curfew.