The editor of one of Venezuela's largest newspapers, El Nacional, was detained by authorities at his home on Wednesday afternoon, according to a report from his colleagues.
The newspaper has been the victim of government harassment in the past.
According to the report, a prosecutor with the Public Ministry as well as agents from the Scientific, Penal, and Criminal Investigative Corps (CICPC) of the national police, entered the home of El Nacional Editor José Gregorio Meza, arrested him and took him in for questioning.
Authorities have also summoned four other reporters in for questioning, according to a statement from the news outlet's president, Miguel Henrique Otero.
"The Prosecutor's Office and Cicpc went to the house of journalist José Gregorio Meza and took him away for questioning. Four more journalists are being summoned and me. I'm in Madrid just in case," said Otero.
It is unclear the reason for detaining the editor, but according to his colleagues, before being halled away Meza reported that the prosecutor said he should be taken away to "testify about some articles that were published in El Nacional."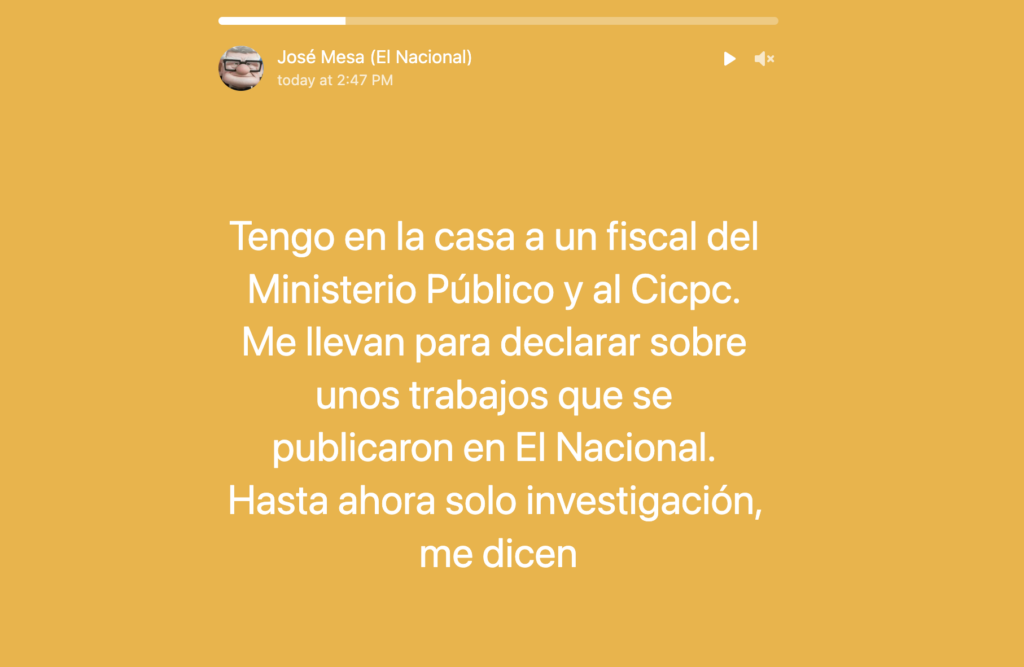 Meza's current location is currently unknown and local journalist rights groups are calling for his immediate release.
"Cicpc officials and the Prosecutor's Office appeared at the home of José G. Meza, head of information for El Nacional. He was transferred to an unknown destination. Four other journalists were also summoned. We demand his immediate release," said the organization Colegio Nacional de Periodistas.
Venezuela ranks 159th out of 180 countries on Reporters Without Borders' press freedom index. The government regularly blocks content from independent news outlets in the country and reporters are frequently subject to threats and physical violence, according to the reporters' rights group.
In 2018, a group of "Colectivos," illegal armed groups loyal to the government of President Nicolás Maduro, stormed the offices of El Nacional, kidnapping workers.
Politicians and other media organizations from around Latin America have taken to Twitter to denounce Meza's detention.