Mexico City-based last-mile logistics platform Cargamos has been announced a winner of the 2021 National Logistics Award from Mexico's Secretary of Economy.
Cargamos was recognized alongside seven other projects, companies, and executives that contributed to the development of the logistics industry in the country over the last year despite the challenges brought about by the coronavirus pandemic, Grupo T21 reports.
The other winners were Nestlé; Sally Beauty; Onest Logistics; Sintec Consulting; Angélica Bojórquez Aispuro, supply chain officer at Coppel; Emely Lizeth López Narváez, director of logistics and transportation at Constellation Brands; and Hugo Ruíz Murillo, vice president of logistics and customer service at Colgate-Palmolive.
At the award ceremony, Héctor Guerrero, undersecretary of industry and commerce at the Secretary of Economy, said the National Logistics Award is "more relevant" this year because of COVID-19, which marked a "watershed moment" in the industry.
"Those who receive the award today are an example of how companies should adapt to new circumstances and how opportunities can be found and capitalized on in any environment and at any time," he noted.
Cargamos, which has set its sights on owning same-day delivery in Latin America, was the winner of the "Logistics Service Provider" category.
The platform is creating a nationwide distributed warehouse network to empower regional retailers and recently raised $7 million in follow-on funding. The funding brought the company's total seed round to $11 million.
Cargamos plans to use the funding to build a giant fulfillment facility in the Mexican capital and to also increase the number of its "pods", which are mini distribution centers where packages are sorted and sent out for final delivery.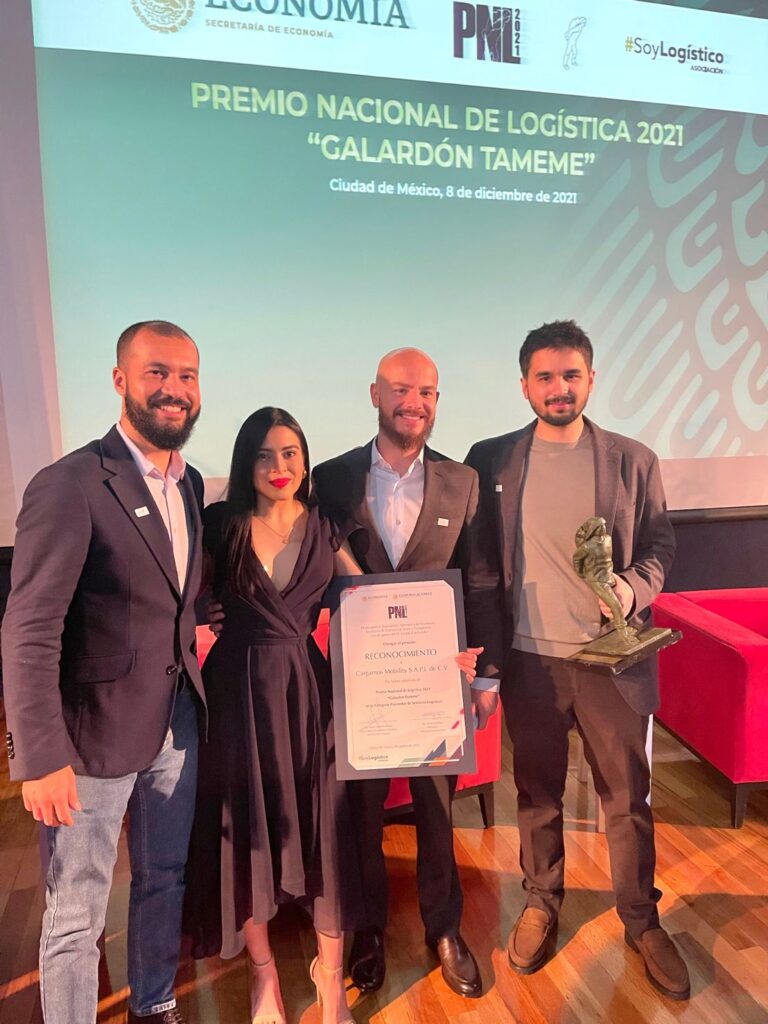 The pods are unused spaces in empty parking garages and shopping malls that have been repurposed to provide a "hyper proximity delivery network" that is accessible, fast, and cost-effective.
The company had around 50 pods until recently, but its founder and CEO Ivan Ariza says they expect to at least double the size of their network in early 2022 to cover 75 additional cities.
Cargamos has the support of several entrepreneurs in Latin America, including the CEO and founder of Kavak, Carlos García Otati; the CEO and founder of Jüsto, Ricardo Weder; and the founder and COO of Mercê do Bairro, Guilherme Bonifacio. They have also received investment from well-known venture capitals such as Nazca, FEMSA, and Kayyak Ventures.
The last-mile logistics platform is working with Liverpool, Mexico's largest chain of department stores, and two of the other largest Mexican retailers as well the top 50 companies with an e-commerce channel in the country.
The founder of Cargamos is aiming for "quick commerce" or delivery in around two hours. The company has its own fleet of delivery vehicles and drivers, but third-party carriers can join the network too.
Zero emissions vehicles such as electric bicycles, motorcycles, and cars make up about a quarter of its delivery fleet. Cargamos' environmentally friendly transport and its many pod locations enables it to reduce the carbon footprint of each package by 80%.
The establishment of a new fulfilment facility will help the company offer its services to small and medium-sized businesses who do not have their own fulfilment centers. This will also help further expand e-commerce in Latin America, which is already experiencing a boom thanks to the pandemic.
Online retail sales in Latin America are estimated to reach $85 billion in 2021 and $160 billion by 2025. On a regional level, Brazil and Mexico are competing for the spotlight, respectively accounting for 31% and 28% of the Latin American e-commerce market.
Cargamos is determined to not only help this sector grow in the region but also to "break the monopoly of the logistics industry giants". It has announced plans to expand into the U.S. and Colombian markets in the coming years and seems on track to take a larger share of this ever-evolving market.
Disclaimer: This article mentions a client of an Espacio portfolio company.