In 2017, Latin America was home to just two companies worth over $1 billion. A year and a half later, the region boasts 14 unicorn startups, with more on their way. This massive spike in high-value companies could bring Latin America out of its recent slump in economic growth: an opportunity that governments are capitalizing on.
The Latin America Private Equity and Venture Capital Association (LAVCA) reported that in 2016, capital funding on the continent was around $500 million, but by 2018 this number had increased to $2 billion. By August this year, with the help of Japanese company SoftBank's $5 billion Latin America Tech Fund, investment in Latin America had already surpassed 2018's total and according to Reuters, could end the year at $4 billion.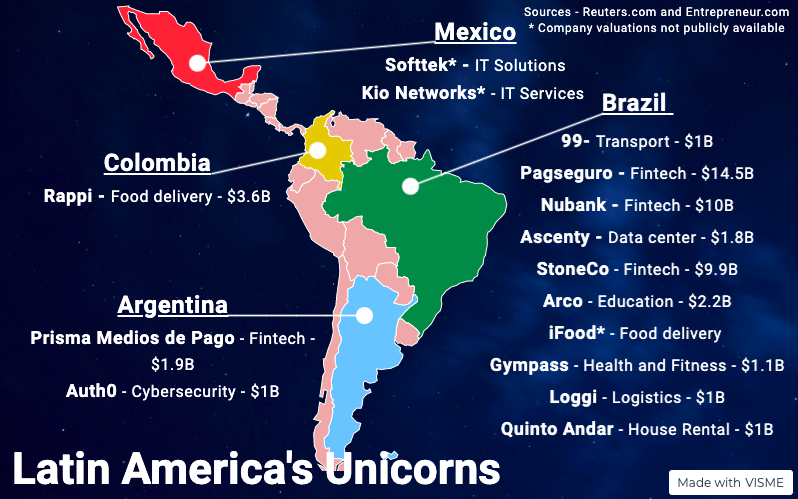 Much of this investment is concentrated in a handful of countries. Brazil and Mexico are home to thriving startup hubs, receiving the vast majority of the venture funding invested into the region. BizLatinHub reported that both countries have large populations with rising levels of smartphone usage and internet penetration, which makes it easier for their startups to cash in on first-time users of online commerce or online banking apps.
Until now, lack of investment was not the only thing that had been holding Latin American startups back. Notoriously difficult paperwork and complicated bureaucracy both slowed down the creation of new companies and dissuaded many from ever taking the first step.
In 2017, Argentine President Mauricio Macri introduced the Entrepreneurs' law that streamlined the process of registering a business, so that the process took days rather than an average of six months.
Prior to passing a law in April, bureaucracy was so complicated in Brazil that one entrepreneur, in a previous interview, stated he preferred to start his company "unofficially" rather than dealing with the demanding government requirements. The law, which among other changes means that low-risk companies do not have to apply for permits before starting their business, made the landscape easier.
Throughout his first year as president, Colombia's Iván Duque has also been encouraging entrepreneurship in cities such as Medellín and Bogotá, which are already well-established startup hubs. Duque has directed funds to incubators, universities and accelerators, and his new Orange Economy laws have implemented tax incentives for young businesses, provided they create new job opportunities for Colombians. The flourishing startup ecosystem has also led Medellín to be named a center for the Fourth Industrial Revolution, alongside cities such as San Francisco and Tokyo.
Latin America, a region traditionally lagging far behind in entrepreneurial activity, has made a huge amount of progress in a couple of years. Thanks to government funding and support, as well as increased investor interest in the region, the number of startups reaching a net value of US$1 billion is only set to increase.
This article has been edited to include links to sources and further explanation of entrepreneur laws in the region.