Earlier this month, Ecuador joined Argentina, Brazil, Colombia, Costa Rica and Uruguay in becoming the sixth Latin American country to legalize same sex-marriage, although each country varies in progressivity when it comes to the nuances of LGBTQ legislation. As this year's pride month draws to a close, we take a look at the status of LGBTQ rights in these six countries.
Despite traditionally being one of the most devout, Catholic and conservative regions of the world, Latin America is also home to some of the most progressive legislation with regard to sexual orientation and gender identity.
According to research (PDF) conducted by political science professor Javier Corrales of Amherst College, in countries such as Argentina, Brazil and Uruguay, LGBTQ legislation is more progressive than in some of the most developed countries in the world. Corrales' theory links greater LGBTQ acceptance to higher income and better education, as well as the important, but not essential – in his opinion – existence of pro-rights movements. The strong presence of religious and faith groups is damaging, he says.
In January 2018, however, a ruling by the Inter-American Court of Human Rights signified that signatories of the American Convention on Human Rights were obliged to legalize same sex marriage, a significant step forward for LGBTQ rights in Latin America. For countries that recognized neither same-sex marriage nor civil unions, such as Bolivia, Peru and Paraguay, their governments were expected to change legislation. This, however, has been a slow process.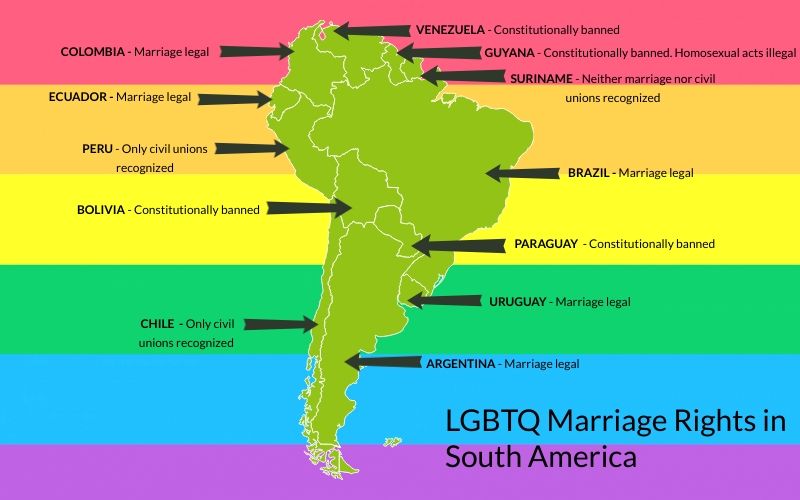 Argentina
Argentina became the first country in Latin America to legalize same-sex marriage in 2010. It is also one of the few Latin American countries where same-sex marriage in churches can be performed.
Besides the right to marry, Argentina's 2012 Gender Identity Law is widely recognized as one of the world's most comprehensive transgender rights laws, and was praised by the World Health Organization (WHO) in 2016 for the significant progress it had made in this area.
As a result of this progressive legislation, changing one's name and gender affirmation is a fairly straightforward process in Argentina, as opposed to in other Latin American countries where the process can be much more arduous. In addition, Buenos Aires government's 2018 mandate, which stipulates that at least 1.5 percent of public employees must be trans, was an important step towards implementing inclusive legislation.
World Politics Review attributes the passing of such progressive legislation to the notably low church attendance levels in Argentina, despite the majority Catholic population. It also has a relatively small Evangelical sector, traditionally one of the bodies to be most vocally against the LGBTQ community.
Internationally, Argentina has been recognized as an advocate for LGBTQ rights, thanks to its active support of initiatives such as the Global Equality Fund. Argentina also played a role in the 2016 vote to appoint an independent expert on discrimination based on sexual orientation and gender identity to the United Nations (UN) Human Rights Council.
Brazil
"I would be incapable of loving a gay son," president Bolsonaro told Playboy magazine in 2011, claiming he would prefer his son to die in an accident than be gay.
Despite current President Jair Bolsonaro's attitudes towards homosexuality, which – before his inauguration – sparked fears that LGBTQ rights in Brazil might backtrack, they are in fact some of the world's most advanced.
Same-sex marriage has been legal since 2013 and as of last year, these ceremonies are now permitted in churches. The Episcopal Anglican Church of Brazil also permits the ordination of gay and lesbian priests.
The recent Supreme Court decision to criminalize homophobia and transphobia prompted a huge celebration at this year's pride marches, of which São Paulo is hosts one of the largest in the world.
Until the ruling, however, Brazil had been one of the world's most unsafe places to be LGBTQ, due to alarmingly high numbers of LGBTQ-phobic attacks. In 2018, 420 people died as result of LGBTQ-phobic crimes, according to Grupo Gay da Bahia.
Read more: The fragile legacy of Brazil's slain human rights activist Marielle Franco
Colombia
In 2016, Colombia's Constitutional Court legalized same-sex marriage, an overdue legislation change that trailed far behind the constitutional right for same-sex couples to be recognized as a family, granted in 2011, as well as their right to adopt, established in 2015.
In the same year, Colombia's Interior and Justice Ministries also eased the right to legally change one's sex – which has existed since 2013 – in order to allow sex rectifications in government-issued ID for those over 18 years of age. Since 2017, trans women also have the right to serve in the national military, regardless of their gender identity. Trans men, however, are excluded from the legislation.
While discrimination based on sexual orientation has been banned since 2011, it was amplified under the leadership of former President Juan Manuel Santos, who oversaw the signing of a decree to prevent discrimination based on sexual orientation in March 2018, just before the end of his mandate. The initiative was spearheaded by Youtubers who used social media to gather campaign signatures.
However, LGBTQ activists continue to argue that their rights are not being protected enough. According to the organization Colombia Diversa, 109 members of the LGBTQ community were reported to have been murdered in 2017.
Read more: Are reggaeton and social media enough to save Colombia's human rights activists?
Costa Rica
In August 2018, Costa Rica's Supreme Court ruled that banning same-sex marriage is illegal, after the issue had been highly contested during the presidential elections earlier that year. Although this does not yet mean that same-sex marriage is completely legal yet, lawmakers were given to 18 months to see the legislation through, meaning it will be in place by mid-2020.
Speaking to the Thomson Reuters Foundation at the time of the ruling Marco Castillo, a lawyer and head of the Ecuadorian LBGTQ rights group Diversity Movement predicted the time period would be an "18-month struggle." But, he added, "the battle is already won."
Within the first year of his mandate, which began in May 2018, President Carlos Alvarado also made it his priority to update LGBTQ rights legislation, enabling the right to change one's sex on the civil register from the age of 18. At the same time, Alvarado also declared that it was in the "public interest," to provide hormone treatment, making it available as part of Costa Rica's public health services. Nevertheless, LGBTQ discrimination remains unpunishable by law.
President Alvarado was present at this year's pride parade in the capital city of San Jose, holding a banner that read "you will never walk alone again," reported the Tico Times.
Ecuador
Ecuador is Latin America's most recent country to legalize same-sex marriage after a closely-constested Constitutional Court ruling earlier this month. The five out of nine votes in favor of its legalisation were cast on the grounds that all people are equal and should not be discriminated against.
In 1998, Ecuador became the first Latin American country to place sexual orientation under the categories of groups protected against discrimination. Civil unions have also been possible since 2015, despite the national Constitution's continued stipulation that marriage is to be a union between men and women, and the remaining ban on same-sex couples from adopting children.
The same 2008 Constitution also condemns discrimination based on gender identity and enables Ecuadorians to change their sex on identity documents once they have completed the medical surgery. However, Human Rights Watch (HRW) argues that the permanent marker this leaves on each person's ID cards is "stigmatizing."
Uruguay
Named the most LGBTQ-friendly country in Latin America in 2016 by America's Quarterly, the nation has been dubbed a "model for social inclusion." Uruguay legalized same-sex marriage in 2013, a decision notably supported by over half of the population, according to the World Bank.
Uruguay was also the first Latin American country to introduce civil partnerships in 2008, as well as the first in the region to legalize adoption by homosexual couples in 2009.
The transgender community may now change their gender, subject to approval by an interdisciplinary committee and, thanks to a new law passed in October 2018, gender confirmation surgery and hormones are now provided by the Uruguayan state health system. The same law also stipulates that 1% of all government employees must be trans, a rule that will stay in place for the next 15 years.
Despite progressive legislation, the Uruguayan LGBTQ community, like LGBTQ communities across the region, continues to be more susceptible to poverty and a lack of access to education and housing. They are also subject to homophobic violence, despite the fact that it has been prohibited by law since 2004. According to the World Bank, the average life expectancy for a trans Uruguayan woman is 45 years old, 32 less than a cisgender woman.
While these countries may be leading the region in progressive legislation, these communities will continue to be vulnerable until tolerance is embraced in all facets of society.